We welcome people of all ages, genders, cultures, occupations, and backgrounds.
We strive to ensure the clinic is safe and accessible for everyone.
Our staff have additional training and experience in consulting with the following:
People on their pregnancy and post-natal journeys
Infants, children, and teenagers
People from the LGBTIQA+ community
People with chronic and complex health conditions or mental health challenges
Children can experience pain and discomfort from falls and accidents, sports injuries, and rapid growth. Our team is experienced in assessing and treating young people and helping them continue to live life to the fullest.
Treatment for children and teenagers is gentle and age-appropriate. Consults include advice on footwear, school bags, pillows, the study setup, stretching, and screen use.
If you are unsure if osteopathy is suitable for your child, we are happy to have a call to discuss this with you. We acknowledge that some concerns are beyond our scope of practice and will refer you to a more relevant practitioner (such as GP or Paediatrician) in these situations.
Common conditions are seen in children and teenagers:
Growing pains
Severs disease
Osgood Schlatter
Knee, hip, or feet problems
Headaches
Back, neck, or rib pain
Other sports injuries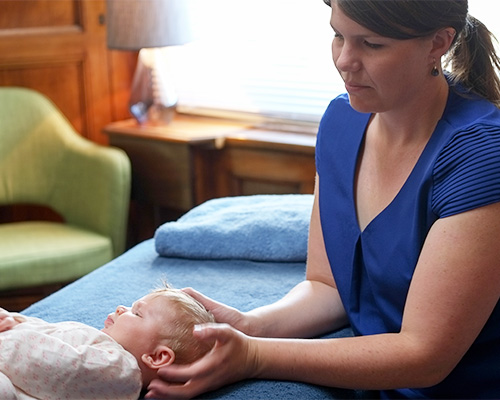 Our principal osteopath Julie Hjorth is a titled Advanced Paediatric Osteopath and has extensive experience with treating infants and toddlers.
Osteopathic treatment of babies enlists gentle techniques that cause no pain or discomfort to the baby. Little ones often sleep through their treatments, or at other times may have time for cuddles or feeding while in the consulting room. Where relevant, exercises and advice may be given in addition to treatment.
Common reasons for an infant/toddler to see an osteopath:
Plagiocephaly or uneven head shape
Torticollis or neck turning preference
Feeding or latching difficulties including oral ties (often on referral from LC or paediatric dentist)
Hip problems, walking, rolling, or crawling difficulties
Foot dysfunction
We bring a passion for pregnancy health together with a nurturing environment to offer a caring, personal experience for you and your family.
Our clinic offers osteopathic treatment tailored to suit your individual journey. We listen to your story and use our experience to help you with any pains or discomforts felt during pregnancy and after birth.
Many of the pains and strains felt in pregnancy are due to postural and hormonal changes, ligaments loosening, and reorganising of organs. Osteopathy helps the pregnant body by integrating the postural changes that occur through the growth of the baby. Post-birth, we can assist recovery in the pelvis, pelvic floor, back, and shoulders.
Common pregnancy-related complaints include:
Pelvic girdle pain
Pubic pain
Sciatic pain
Low back, hip pain, and coccyx pain
Pelvic floor issues
Neck, shoulder, and upper back pain
Rib pain
Headaches
Carpal tunnel syndrome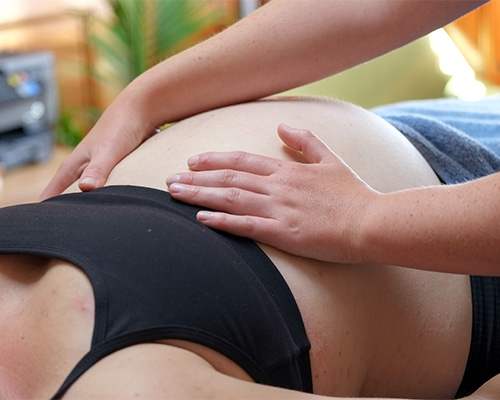 Why choose us?
Experience with pregnancy, birth education trained
Consultation length allows time for thorough, individualised care
Strong relationships with midwives, lactation consultants, and birth educators
Gentle, versatile approach to treatment
Quiet, calm, welcoming clinic space
Breastfeeding and bottle-feeding welcome
Change table and child play areas
We are also sensitive to pregnancy loss and can offer consultations suitable.
LGBTIQA+ Folk 
Our goal is to create a welcoming and inclusive space for people of all gender identities and sexual orientations to seek health care. We celebrate our diverse queer community with its intersecting identities and acknowledge the journey many go through to feel at ease in their bodies and around others. We understand that the process of seeking health care can be difficult and our team is aware of the medical obstacles often faced by our trans and gender diverse community members. With this in mind, we tailor our service and treatments for each patient, with patient comfort and safety a priority at all times.
Our osteopaths have experience working with queer couples on their pregnancy journey and post-partum. We can give advice on safe binding practices for all age groups.
For those who are questioning or are not out, patient privacy is integral to health care and confidentiality practice is always upheld.
Chronic, Complex, Mental Health Conditions
We know how difficult it can be to find health providers that give you the time and support needed when juggling complex health conditions.
We have a special focus on patients who have chronic health conditions, or other complex needs such as post-traumatic stress disorder, chronic fatigue syndrome, and anxiety.
Our osteopaths ensure you feel secure and listened to in your consults. You will not feel rushed, and treatment will be performed within your own boundaries, with clear explanations as to what we are doing. We will keep you engaged with feedback and consent at all times.
Book your appointment online!